Introducing Cleveland Modular: Your Industry-Leading Modular Building Supplier for Hire.
Looking for a modular building solution that meets your specific needs? Look no further than Cleveland Modular. As an industry-leading modular building supplier with a focus on hire, we offer a wide range of high-quality, affordable modular buildings to suit any application.
At Cleveland Modular, we understand that your business has unique requirements when it comes to space and infrastructure. That's why we offer fully customisable modular buildings, designed and built to meet your exact specifications. Whether you need a temporary office space, a modular classroom, or a modular medical facility, we have the expertise and experience to provide you with a solution that meets your needs.
Why Cleveland Modular?
Buy or Hire

Modular buildings offer the flexibility to accommodate your changing needs whether you want to buy or hire

Sustainable Solutions

Modular solutions with eco-friendly materials, energy efficiency, and minimal waste for a greener future

Flexible & Scalable

We offer flexible and scalable modular buildings that are fully customisable solutions and can adapt to your changing needs

Turnkey Service

Turnkey solutions, encompassing design, installation and internal finishings for hassle-free and efficient projects
Our modular buildings are built to the highest standards of quality and safety, with a focus on energy efficiency and sustainability.
We use only the highest quality materials and construction techniques, ensuring that your modular building is built to last and can withstand the toughest conditions. In addition to our exceptional products, we offer outstanding customer service and support. Our experienced team is always on hand to help you with any questions or concerns you may have, and we pride ourselves on providing timely, efficient service that meets your needs and exceeds your expectations.
So why wait? Contact Cleveland Modular today to learn more about our modular building solutions for hire. Whether you're looking for a temporary solution or a long-term investment, we have the expertise and experience to provide you with the perfect modular building solution for your needs.
Why use Modular Buildings
Cost-effective

Modular buildings offer cost-effectiveness through efficient production, reduced labour costs, and streamlined construction processes, delivering value for your investment

Enhanced Comfort

Experience superior comfort in modular buildings with meticulous attention to insulation, ventilation, acoustics, and ergonomic design, optimising productivity and well-being

Bespoke Layouts

Unlock limitless possibilities with our expertise in crafting bespoke modular building layouts, tailored to your unique requirements
and vision

Grow with You

Adaptability at its finest: Modular buildings offer seamless expansion and flexibility, allowing easy adjustments and scaling to meet your evolving needs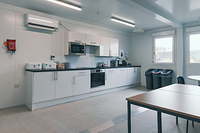 Standard Range
Introducing our standard modular buildings: flexible, affordable, and quickly installed structures that can adapt to your changing needs. Choose from various sizes and configurations, personalise with layout and features. Built to last with high-quality materials, energy-efficient design, and easy transportability. Perfect for temporary offices, classrooms, retail spaces, or workshops.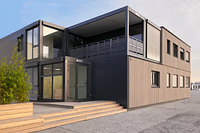 Premium Range
Introducing our premium modular buildings: high-end, customisable, and durable structures that seamlessly blend style and functionality. These visually stunning buildings are energy-efficient and eco-friendly, equipped with advanced insulation and climate control systems. Whether it's a luxury office, showroom, or hospitality venue, our premium modular buildings offer the advantages of traditional construction with enhanced speed, flexibility, and customisation.
Sectors
Cleveland Modular offers an extensive selection of customisable modular building solutions available for hire, catering to a diverse range of sectors.
From construction, education, healthcare, to retail and leisure, our team possesses the necessary knowledge and experience to deliver the ideal modular building solution that precisely aligns with your specific needs.
Count on us for superior quality and safety standards, as our solutions are meticulously crafted and can be tailored to your exact specifications.
Discover our ideal modular buildings for construction sites. We offer a range of options, from offices and canteens to shower blocks and meeting rooms.